Saying Farewell To Margaret
Covington News
Posted by: Covington Travel 1 year ago
Margaret was very loved by our entire team and we will miss her dearly. We hope she can rest in peace knowing that the Covington Travel she pioneered will continue on with integrity and excellence as her legacy.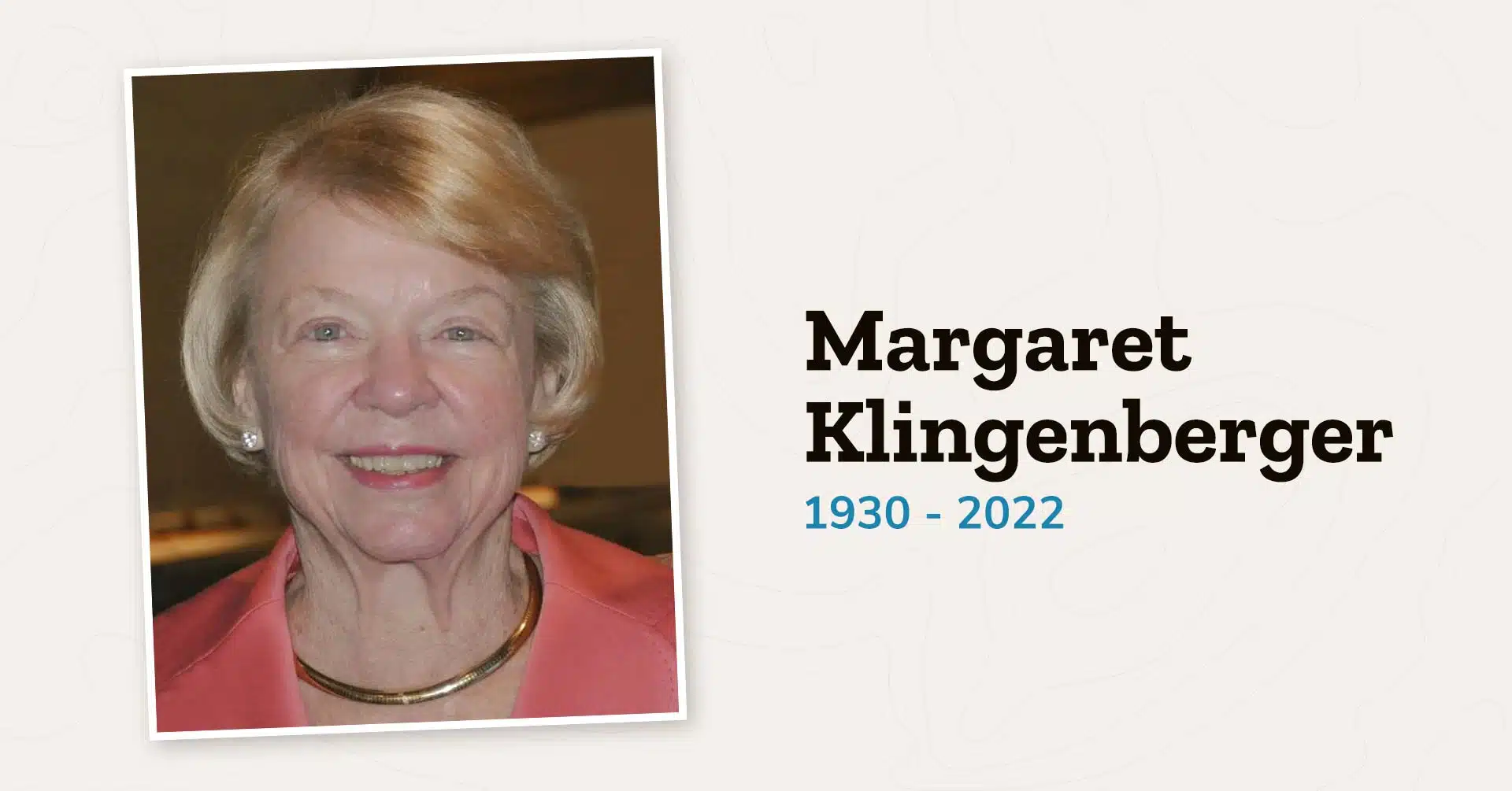 Margaret S. Klingenberger, age 92, passed away peacefully, surrounded by her family on Sunday, October 30, 2022, in Fort Wayne, IN.
Margaret's Early Years
Margaret Ann Schnellbacher was born October 29, 1930, in Washington, D.C. to Emil St. Elmo and Mary Elizabeth (née Holt) Schnellbacher. Her father was the longtime Director of the Commerce Department, Office of International Trade, and, later, Undersecretary of Commerce.
Raised in Northwest Washington, she was a proud graduate of St. Ann's Grammar School, Immaculata Preparatory School, and Trinity College. Her deep love of ballet led her to start her first business, the Margaret Ann School of Dance in Washington.
During this time, Margaret was introduced to and fell in love with Robert ("Bob") J. Klingenberger, a recent graduate of the University of Notre Dame. After marrying Bob in 1954, she moved to Fort Wayne, IN, where they raised three children.
Margaret's Life In Fort Wayne
Upon arriving in Fort Wayne, Margaret worked to make the city her own and spent the next 68 years volunteering across various organizations. Margaret was also a dancer and instructor for the Fort Wayne Ballet and was recognized for her volunteerism by the Junior League of Fort Wayne.
She served on the boards of the Fort Wayne Ballet, The History Museum, the Convention & Visitors Bureau, the Junior League, Covington Lake Estates, and the Council of NE Indiana Women Business Leaders. Her Catholic faith was important to her and she was active in several parishes.
Always entrepreneurial, she channeled her love of travel into a successful business. In 1980, she founded Covington Travel, Inc. and was recognized as a leader in the travel industry, serving on numerous professional boards – including Virtuoso's Hotel and Tour Committee, Starwood Advisory Board, Intercontinental Luxury Hotels Advisory Board, and the Council of NE Indiana Women Business Leaders.
Margaret was featured in Travel & Leisure Magazine as one of the leading travel consultants in the United States. She loved to travel, experience new cultures and enjoyed friendships with people from around the world.
Margaret led an active lifestyle that was reflected in her forever-youthful appearance and positive outlook. She was an enthusiastic tennis player, winning the club championship at the Fort Wayne Country Club numerous times, and a long-time skier, enjoying many holidays with family and friends at Boyne Mountain.
Family was always foremost in Margaret's life. She was a devoted wife of 57 years, mother of three, and grandmother of four.
Profoundly wise, beautiful, brave, and loyal, she will live on in the hearts of the people who love her.
Margaret was preceded in death by [Robert] Klingenberger, her beloved husband of 56 years; her parents; her older brother, Dr. Emil E. Schnellbacher; and her son-in-law, Doug Eash.
Margaret is survived by her brother, Charles (Susan) Schnellbacher of Oakland, CA; son, Jerome J. (Mary) Klingenberger of Hinsdale, IL and two daughters, Mary Beth Eash and Margaret "Meg" (Robert J.) Distler of Fort Wayne; grandchildren: Margaret Distler Briseno (Carlos) of San Francisco, CA, Mary Distler of Reston, VA, Robert (Megan) Klingenberger of New York, NY, and Charles Klingenberger of Chicago, IL.
The family is appreciative of the many compassionate members of the Fort Wayne medical community over the past year and a half who have assisted Margaret.
Mass of Christian Burial is 11 a.m. Friday, November 4, 2022, at St. Elizabeth Ann Seton Catholic Church at 10700 Aboite Center Rd, Fort Wayne, IN 46804 with visitation one hour prior.
The funeral mass will also be available via the livestream link found at SEASFW.org/livestream, available 15 minutes prior to the funeral start. Arrangements by Divine Mercy Funeral Home.
In lieu of flowers, preferred memorials may be made to the Margaret S. Klingenberger Scholarship at the Fort Wayne Ballet. To sign the online guest book, go to https://divinemercyfuneralhome.com.
You May Be Interested In: